Secure your $15,000 grant money now!
Canada Digital Adoption Program, a federal initiative is providing a $15000 consulting grant and $100,000 interest-free loan from BDC to become more digitally evolved.
CYBERLOBE IS A CERTIFIED
DIGITAL ADVISOR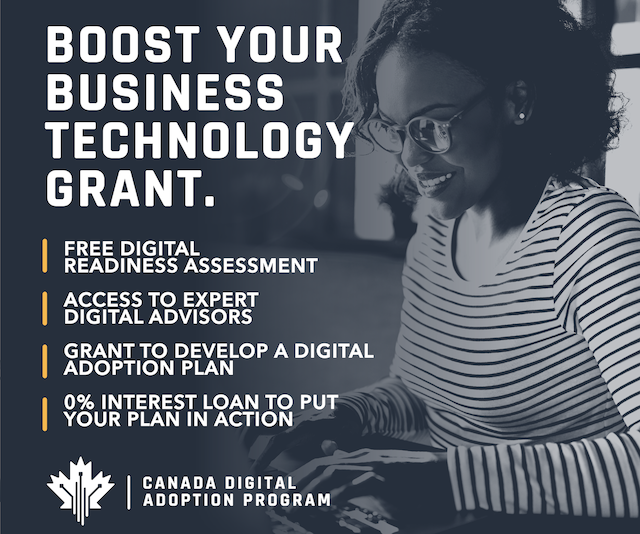 Get $15,000 Grant + $100,000 BDC Loan +
$7300 Wage Subsidy
The Canada DigitalAdoption Program(CDAP) launched the Boost Your Business Technology grant. This grant helps SMEs adopt new digital technologies.
Use the free digital assessment tool to evaluate your business's digital readiness
Get upto $15k to consult a digital expert to develop a digital adoption plan for your business
Get up to $100k in 0% interest loans from @BDC to implement your digital adoption plan
Use a funded work placement to get a student or recent graduate to help with your digital transformation
Take a Look. Inside Scoop on Grants
SMEs Journey Through CDAP
What does the Digital Adoption Plan Include?
As your Digital Advisor, we will assess your company's current digital maturity and identify how digital adoption can support your company's business strategy
Excerpts of the plan (not limited to) :
Creating a digital marketing and e-commerce strategy

Implementing a CRM or ERP system

Blueprint for a communication bridge that will allow different systems to interact with each other seamlessly

Digitizing areas where manual processes are used like spreadsheets

Automating invoicing,  POS, contract, and supply chain management

Automating sales processes

Automating your accounting operations using cloud-based technologies

Creating dashboards and analytics to provide actionable insights into your organization
Where can I apply for the grant?
You can apply through the CDAP site here –
How much cost does the grant cover?
For eligible SMEs that have successfully completed the DNA, CDAP will pre-approve them for a grant covering up to 90% of the cost of the digital adoption plan evaluated at a maximum of $15,000.
Can I work with any provider or company that builds digital adoption plans?
To avail the grant you need to work with a digital advisor that is recognized by CDAP. Cyberlobe Technologies is an approved vendor for Canada digital adoption program.
Will Cyberlobe help with application process?
Sure. We can help you with every step of your application.
Does the grant cover implementation of this plan?
No. The grant is just for building the digital adoption plan. However, as soon as you have your plan approved from CDAP, you can apply for up to a $100,000 loan from BDC at 0% interest.
Will Cyberlobe help implement the plan?
Absolutely.
Your digital plan will provide a guide for planning your priorities, including timelines, budgets, and a cost/benefit analysis of suitable tools and strategies. Once the plan is developed this will be the end of our engagement from the Canada Digital Adoption Program perspective. 
However, this is just the beginning of your journey with transformation. You can choose any digital service provider you like, to implement your plan. Or choose Cyberlobe to continue through the implementation phase. 
Am I eligible for the BDC Loan?
The first step before applying for the loan is to have a digital adoption plan that is recognized by the CDAP Boost Your Business Technology stream. If you already have a digital adoption plan that was developed through a recognized government digital adoption program, you may be eligible to proceed directly to a loan application without developing a new plan.

Once your digital adoption plan has been reviewed by CDAP and if you are interested in applying for a loan, ISED will send you an email with a personalized link.

Please note that although the loan request is being made under CDAP, applicants must meet CDAP eligibility criteria and BDC credit worthiness requirements in order to receive a loan offer.
Can I still use your services if I am denied the loan?
Can I still apply if my company is based in another country?
No. You company needs to be incorporated in Canada to avail this grant.